Da Boys
Last updated 8-14-11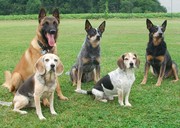 Lil' King - CGC, TDI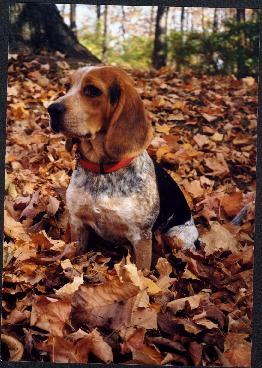 Hi, I'm Little King, CGC,TDI.
I'm a full blooded Beagle. My blue tick color is not common and makes people think I'm a mix. I was born on Valentine's Day in 1999. Dad named me after a Beagle named King that he knew when he was growing up. It's turned out to be a fitting name. I was so wild as a pup, that mom registered me as Little King Chaos! I'm daddy's boy and hate to see him leave the house without me. He has helped me become the world's best beggar. I learned long ago that force doesn't get it. I just stare long and hard with my saddest Beagle eyes. Gently putting my head or a paw on dad's leg gets him every time. With mom, I usually have to work harder by laying on the back of the couch and resting my head on her shoulder. I have earned two titles; Canine Good Citizen and Therapy Dog. Petting and treats from all my fans... what could be better? I have also taken my job of teaching the art of begging to the other dogs very seriously. My favorite activity is laying in a sun beam or curling up on dad's pillow.
Coyote- DSA, TDI, PDX, CGC, TT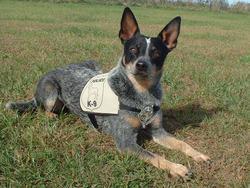 Hi, I'm Coyote - DSA,TDI,PDX,CGC,TT
I'm a blue Aussie Cattle Dog like Buster. My nick name is "wild man". I was born on Jan. 27, 2000. I'm mom's little boy and I have her wrapped around my finger! She's teaching me lots of stuff but my favorite thing is jumping into her arms. I'm a Dog Scout and mom is the local scoutmaster. She even takes me to all the Dog Scout camps in Michigan because she commutes to work there a few times each Summer, though she says I get to stay home this year. I have earned over 50 badges for things like Backpacking, Biking, Agility, Rally, Maners, Boating Safety, Tracking, Search and Rescue, Flyball, Freestyle Obedience, Community Service and obedience without wearing my collar and lead! I have my own back pack and have earned my second level Pack Dog Title (PDX- Pack Dog Excellent). This means I've carried a loaded pack for 100 miles! I'm also a Canine Good Citizen, passed a Therapy Dog test and passed an ATTS Temperament Test. In 2007 mom noticed I was having trouble seeing and the vet confirmed I have PRA (Progressive Retinal Atrophy.) My eye sight has been getting worse, but I have no trouble navigating. I have decided that I prefer to stay home with dad whenever mom goes out though. My favorite activities are teaching Dazzle some manners and eating treats. This picture is me in my halloween costume as a police K9. Mom says my excellent sense of smell and hard bite could probably qualify me for the force!
Baron von Beaglestein - DSA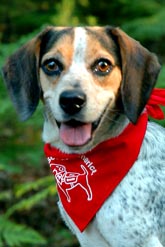 Hi, I'm Baron von Beaglestein - DSA
My nickname is Bear. My birthdate has been made Nov. 11, 2003 because I was found on Nov. 11th, 2004. I was soaking wet from rain that was expected to turn to snow later that evening. I was so happy when I saw Dad's truck! Mom and Dad contacted all the vets and shelters and asked all the neighbors (who all seem to know each other) but no one claimed me. It's thought that I was a hunter's dog that didn't quite 'cut it' and was left behind. I was not neutered, but after a few weeks of trying to find a former owner, that changed. At the time, the vet said I could be anywhere from 1 to 3 years old, but I acted like a pup so probably close to 1 year old. I am loving the indoor life, but still enjoy spending time laying in the yard surveying the property. In July of 2005, I attended my first Dog Scout camp and had a GREAT time! I acheived the title of Dog Scout (my I.D. photo is shown above) and I found that I LOVE agility! During just two sessions on the agility equipment, I got all three of the basic agility badges! I did the chute on my own with no training (I just HAD to see what was in there!). I also did the teeter and found that running to the end and riding it down fast was "way cool" and I kept wanting to do it again. I can't wait till I get to go to more camps and get to tunnel, and kayak and hike and swim and...
UCD, URO-1 Loup Noir Jasper DSA, CGC, RN, CW-ob1, CW-SR, BA-sr, W-FD/MF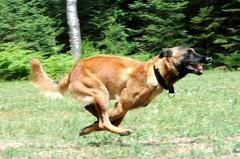 Hi, I'm Dazzle!
I'm a Belgian Malinois "Mal-in-wha" born on July 31st, 2008 to a breeder in Indianapolis. My registered name is Loup Noir Jasper. I have been keeping mom busy since I arrived at just 9 weeks old. She has big plans for me in so many activities and I say "Bring it on!!" Mom says I'm "scary smart" because I learn things so fast. I love working with her and learning new things using positive reward based training. I am the youngest dog to earn the title of Dog Scout (just 14 weeks old) thanks to all the time mom spends training me. I also earned a rally novice title (RN) at 6 months old. I earned a 94, 99 and 95 at the three shows in Indianapolis (with highest score possible being 100.) I also earned my Canine Good Citizen title there. I have earned titles in Canine Work and Games obedience and Rally, Dock Diving through Dock Dogs (placed 3rd in the Amature finals) and have a level 1 UKC rally title with scores of 98, 99 and 100. And a canine freestyle title through the World Canine Freestyle Organization too! I even have my own blog at: www.DogGoneHappy.blogspot.com
Splash Cat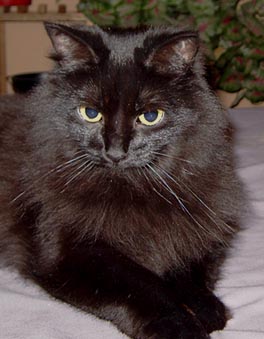 Hi, I'm Splash!
I was born around mid 1999. Mom named me Splash after she rescued me from a pool when I was about 7 weeks old and I got thrown in the water. I was a stray and mom saved me from a life on the street (or is that 'death on the street'). I am very sweet and very inquisitive. My favorite activity is watching "Kitty TV" (the bird feeders mom set up outside my window.) I have my own room to escape to when the boys get too rough, but Baron can fit through my door. That's OK 'cause he is my favorite wrestlin' buddy. Sometimes I get to watch the "big screen TV" too (the sliding glass door to the back yard). I love curling up in a warm spot and teasing the dogs.
Check out the other pages of this website to see more of us, or visit: